[sharethis-inline-buttons]
US President Donald Trump tweeted early Sunday morning, Israel time, that the US "just spent Two Trillion Dollars on Military Equipment."
Recall that Trump had warned Iran against the retaliation stating that Americans have targeted 52 Iranian sites (representing the 52 American hostages taken by Iran many years ago), some at a very high level & important to Iran & the Iranian culture, and those targets, and Iran itself, WILL BE HIT VERY FAST AND VERY HARD.
To advertise on our website or make general enquiries, please email us via groovemusicgh111@gmail.com or call us: 057 80 78524
"The United States just spent Two Trillion Dollars on Military Equipment. We are the biggest and by far the BEST in the World! If Iran attacks an American Base, or any American, we will be sending some of that brand new beautiful equipment their way…and without hesitation!", he tweeted.
SCREENSHOT BELOW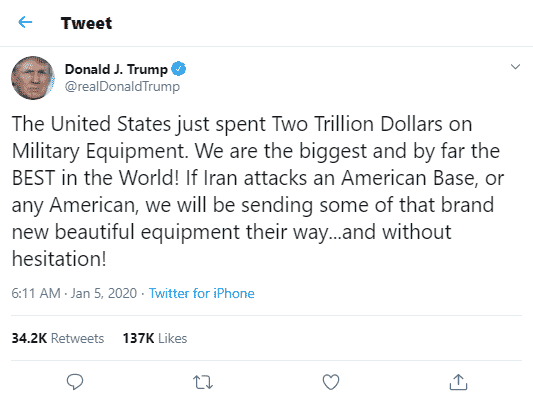 [sharethis-inline-buttons]